Realme C35: Realme UI 3.0 with Android 12 – Early Access
Realme C35 Software Update:
Realme has started the Realme UI 3.0 Early Access application for the Realme C35 model. The application channel was opened on 5th July 2022. Through the Beta trial program, Realme fans and users can now experience the new Realme UI 3.0 features in advance. It will also benefit Realme in receiving feedback for their UI and improvising it for the final release.
Q) Main Question when will it get the Android 12 stable release:
A) As per our information, all Realme devices under 3-4 trial/beta releases

Early Access>Open Beta>Open Beta 2> Open Beta 3 (minimum)
This whole process takes about 2-3 months plus 1 additional for full-rollout batch-wise, probably from our expectation the stable release date for Android 12 will be Sept-Oct 2022 or Later.
Realme C35 was released on 14th February, 2022 with Android 11 out-of-the-box.
There are a limited number of seats available, and applications will be processed in batches. Only 200 Users will be processed for the Early Access application.
Join our Telegram Group – Realme Community
Previous Update:
Previously, the device received the June 2022 security patch update which fixed some known issues in the System. For full changelog details, refer to this post here – Realme C35: June 2022 Security Patch with A.37 Build
Update Details
Device: Realme C35
Android: Android 11
Custom UI: Realme UI 2.0
Build Number: RMX3511PU_11.A.39 – [Required]
Update Type: Early Access – Trial
Android Security Patch: From June 2022
Release Date: 5th July 2022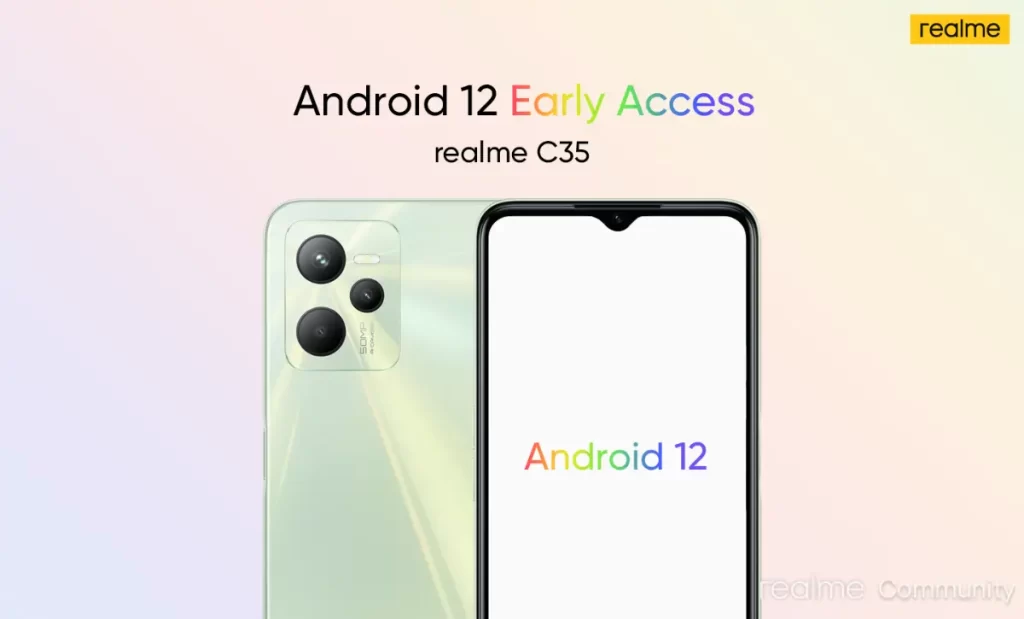 Source: Realme Community
Instructions For The Early Access Program
Please make sure your phone is not rooted.
To prevent data loss, please backup your personal data before proceeding.
Some third-party application versions might not be compatible with Android 12 yet, after updating these applications might not be available or crash down on your device. Therefore, it is recommended to update all your applications to the latest version available in the Play Store before your update.
The Early Access versions may have an unpredictable impact on your phone and effect on daily use.
Please ensure that the available phone storage is more than 5 GB. Otherwise, there will be a risk of update failure (To check the phone storage head to Settings > Storage).
Due to unpredictable factors such as network communication and strategy adjustment, it is not possible to guarantee that every applicant will receive the update. In case the update is not received, we suggest you patiently wait for the official release.
Guidelines for the Program
Make sure your Realme C35 has a 60%+ battery.
Update your device to the required UI version → RMX3511PU_11.A.39.
Please fill in the following questionnaire and make sure the information such as IMEI 1 is correct.
Apply for Early access via the Software Update Application channel:
Settings → System → Software Update → check for update
Rollback:
FAQ:
Q) Why have I not received the Early Access update yet?

A) You will receive the update soon after submitting all needed information in the application channel, but keep in mind that we have limited seats to ensure an optimal beta testing program.

Q) How do I roll back to Android 11?   

A) Read the disclaimer below and follow the instructions to roll back:

1. Your personal data will be erased when you roll back. Please back up your data before the operation.
2. You will not be able to get back to the Early Access version once you have rolled back.

Step 1: Download the rollback package onto your phone's directory.
Step 2: Locate and install the rollback package:

1. Download the rollback package to your internal storage and change the name to update
2. Settings → System → Local software update →Select the "OK" button three times
More From Us
Android 12 – Update Tracker We have made a list of devices which has received…
Follow us
For more Realme updates, please download our android app – available on the Play Store